Head Office
156 Kawanoe-cho Shikokuchuo-city Ehime, JAPAN 799-0101
TEL:+81-896-58-3373,
FAX:+81-896-58-2105
Map
Tokyo Branch
3rd Floor Sankodo-building, 1-18-11 Ueno Taito-ku, Tokyo, JAPAN 110-0005
TEL:+81-3-3835-2939,
FAX:+81-3-3835-8295
Map
Oil Blotting Paper
High Grade Oil Blotting Paper
Oil blotting paper is Japanese traditional paper that women use to remove extra oil from their faces. Before they apply cosmetics on their faces, they use the paper because it helps them to apply cosmetics very comfortably.
This paper is getting popular not only among women but also among men. There are variety of oil blotting papers with colors, aromas, and designs.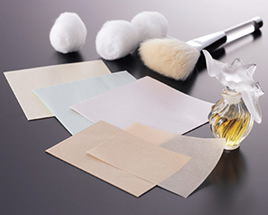 Copyright (c) Miki Tokushu Paper MFG.CO.,LTD. All Right Reserved.